Mendocino Ava Map
Posted : admin On

1/25/2022
Mendocino: Barra of Mendocino (Mendocino AVA) 7051 N State St, Redwood Valley, CA 95470.
Inscription: DICK Slave of John F. Pruyn, Died Nov'r 15, 1799 aged 16 Yrs, 8 mos. Albany Rural Cemetery. Old Church Section 'Nothing is known about this young man beyond the inscription on his gravestone.
I recently have had some spectacular Pinot Noir and Chardonnay from Mendocino Ridge. While in Anderson Valley for the recent Anderson Valley Pinot Noir Festival, I spent an afternoon with winemaker Jason Drew of Drew Family Cellars whose vineyard and winery are located in Elk in the Mendocino Ridge appellation. We toured two of the region's vineyards, Valenti and Signal Ridge, and this took a few hours as many of the vineyards in this appellation are spread out and difficult to reach. As we drove around, Jason filled me in on the geography, the vineyards and the potential of this emerging region for fine wine.
Mendocino Ridge was approved as an American Viticultural Area in 1997, yet it has some of the oldest producing vineyards in Mendocino County. The first modern plantings were established by Italian immigrants and date to the late 1800s. Field blends of red varieties, primarily Zinfandel, were planted, and Zinfandels produced from old vines in this region have been legendary. In 1988, Kendall-Jackson proclaimed that the Mendocino Ridge was one of the world's greatest regions for Zinfandel. Today, Zinfandel is still prized from this AVA, but the region now holds considerable promise as California's newest frontier for premium Pinot Noir and Chardonnay.
The Mendocino Ridge AVA is a non contiguous trio of ridges that is defined by vineyards at least 1,200 feet or more in elevation, and within 10 miles of the Pacific Ocean. It is California's first and only non contiguous AVA. Because of the hilly terrain of the AVA, lower elevations are not included. The ridges are above and surrounded by coastal fog, fostering the name "Islands in the Sky." This catchy name is trademarked by Dan Dooling, owner of Mariah Vineyards, a producer of Mendocino Ridge Zinfandel and Syrah, and one of the winegrowers along with Steve Alden of Perli Vineyard to successfully achieve appellation status for the region.
The first map below is from the website, www.everyvine.com, where an extensive map of the Manchester Ridge is under construction. When completed, the map will be a 24" x 36" map poster similar to other regional maps available for Sonoma, Napa, Idaho and Oregon.
Mendocino is located 9.5 miles (15 km) south of Fort Bragg, at an elevation of 154 feet (47 m). The population was 894 at the 2010 census, up from 824 at the 2000 census. Despite its small size, the town's scenic location on a headland surrounded by the Pacific Ocean has made it extremely popular as an artist colony and with vacationers. Spectacular wines from our officially designated growing region, or American Viticultural Area (AVA), will impress the toughest wine critic. Stay in an intimate B&B, small hotel, hot springs resort or luxury lodging that ranks with the world's best – every host will take exceptional care of you.
The second map below shows the wineries and vineyards of Anderson Valley relative to Manchester Ridge which is noted to the west of Anderson Valley by the patchy, pale, designated ridge top areas extending to Highway 1.
There are 262,400 acres (410 square miles, 36 miles in length from north to south) within the outer boundaries of the Mendocino Ridge AVA, but the actual viticultural area encompasses only 87,466 acres, all lying above 1,200 feet elevation. Of these 87,466 acres, approximately 2,000 acres (2% of the total acreage) of ridge tops are suitable for vineyards. The side slopes are very steep, with grades approaching 70%, and are covered with timber, making them unfit for planting. The Mendocino Ridge is a twisting 12-mile uphill westward drive from the Anderson Valley floor along Greenwood Road from Highway 128. The Mendocino Ridge AVA is essentially a northern extension of the true Sonoma Coast AVA.
The following photographs give a feeling for the ridge top location of the vineyards and the surrounding timberland. The first aerial photo shows Mariah Vineyard and the coastal fog bank. The second aerial photo shows Manchester Ridge Vineyard and its proximity to the Pacific Ocean shoreline. The third photo is of Valenti Vineyard and the fourth photo is of Signal Ridge Vineyard, both of which I visited.
Mendocino Ridge Ava Map
The climate of the Mendocino Ridge AVA is different from the Anderson Valley below. Perched above the fog and frost threat, the vineyards bask in the early morning sun, and early afternoon maritime breezes cool down the fruit, never allowing temperatures to rise as high as the Anderson Valley floor. The winds have an added plus of drying out the soils after rains. The diurnal variation during the growing season is significantly less than the Anderson Valley (20 degrees versus 40-50 degrees for Anderson Valley), and daytime high temperatures are often 10 degrees cooler than in the Anderson Valley. There is enough rainfall (40" or more annually) and ground water to dry farm vineyards. Like the true Sonoma Coast, yields are small in large part due to the extremes of spring weather. Bud break tends to be early, but the shoots grow very slowly due to the consistent coolness, and harvest arrives at the end of September or later.
The soils of the Mendocino Ridge are unique "timber" type, and since the vineyards are located at the top of ridges, they are well drained. In contrast, the soils of the Anderson Valley are deep alluvial in type and in the nearby Yorkville AVA, upland range type. Because of the high elevations of Mendocino Ridge vineyards, soils are of meager depth leading to smaller berries, thicker skins, and lower yields compared to Anderson Valley. In general, the tannins are more prominent in wines from the higher elevations in the Mendocino Ridge. Jason Drew told me that the wines from Mendocino Ridge typically have a noticeable minerality which he referred to as a character analogous to "chewing on granite." I have found an exotic flower component among the aromatic profiles in the Pinot Noirs from this AVA. Bright acidity is a common feature.
The first winery in the Mendocino Ridge AVA was Greenwood Ridge Vineyards, founded in 1980. The original Greenwood Ridge Vineyard was planted by Tony Husch in 1972, and was acquired in 1973 by Greenwood Ridge owner Allen Green. There is a small amount of Pinot Noir now planted there. There are 15 vineyards in the Mendocino Ridge AVA, the majority of which are planted to Pinot Noir (a little over 100 acres), all located on four large ridges: Fish Rock Ridge, Greenwood Ridge, Signal Ridge, and Manchester Ridge.
Noteworthy Pinot Noir plantings in the Mendocino Ridge AVA include the following: (1) Jason Drew's 7 acres on his estate in Elk, planted in 2011. The vineyard is still unnamed. Multiple clones including Dijon 115, 667, and 828, Pommard, Swan, Calera and Mount Eden. The vineyard is extremely close to the Pacific Ocean (a little over 3 miles as the crow flies) so it will be interesting to see how it progresses; (2) DuPratt Vineyard includes 1 acre of head-trained Pinot Noir; (3) Manchester Ridge Vineyard has 161 plantable mountaintop acres at 2,000 feet with currently 19 acres of Pinot Noir and 11 acres of Chardonnay in production under the direction of vineyard manager Martin Mochizuki. Grapes are sold to Auteur, Berridge Wines, B. Kosuge, La Follette, B. Kosuge, J. Jacomon, Lattanzio Wines, Marguerite Ryan Cellars, Olson Ogden, Russian River Vineyards, Taft Street and Tom Eddy; (4) Mariah Vineyard has some vines grafted over to Pinot Noir and farmed by owner Dan Dooling; (5) Perli Vineyard located at 2,200 feet has 6.5 acres of Pinot Noir. Grapes are sold to Drew and Arista; (6) Signal Ridge Vineyard lis located at 2,300 feet. Originally planted to Zinfandel in 1998, it now has 15 acres of Pinot Noir planted in 2005 in production, with additional plantings of Pinot Noir in 2011. All grapes are under contract to Failla; (7) Valenti Vineyard is located at 1,400 feet and currently has 12 acres of Pinot Noir, Syrah, Zinfandel, and Viognier under production. 6 acres of Pinot Noir, clone 667, were planted in 1999, and 3 acres of Zinfandel were budded over to clone 115 and Rochioli selection in 2007. Grapes are sold to Baxter, Drew and Phillips Hill; and (8) Sky High Ranch owned by Ferrari-Carano, located at 1,600 feet, planted in 2003 to clones 667, 777, 828 and Pommard. The name "Sky High" is ironic as the vineyard site was previously occupied by hippies who farmed another crop of some repute.
There are 4 wineries in the Mendocino Ridge AVA, all located on Greenwood Ridge: Baxter Winery, Drew Family Cellars, Greenwood Ridge, and Phillips Hill. The Manchester Ridge AVA Winegrowers Association consists of 17 members (Baxter and Phillips Hill have no vineyards).
A number of current releases from the Mendocino Ridge AVA follow. Several Mendocino Ridge wines have been reviewed previously in the PinotFile (http://www.princeofpinot.com/article/835/).
14.3% alc., $38. ·Deep, dark reddish-purple color in the glass.Complex aroma profile including notes of blueberries, wooded forest, smoke stack, and oak. Lightly styled with delicate flavors of red fruits back by savory herbs. Lifted by bright acidity, the fruit shows some persistence on the finish. Mild tannins make for easy drink ability. Good (+).
14.3% alc, $52. ·Dark reddish-purple color in the glass. Nicely arrayed aromas of black cherries, shaved oak and vanillin. Moderately intense and flavorful dark red and purple fruits supported by mild tannins, layered with spice and soil-driven notes, finishing with unbelievable length and intensity. A seamless wine in perfect balance that has eye-opening mid palate pop, extraordinary mouth coating staying power, and memorable finishing strength.
$52. Tasted at the winery. ·A stunning wine that really made me sit up in my chair. Demure aromas of oak-kissed cherries with discreetly concentrated flavors of dark cherries, dark berries, spice, and subtle oak, wrapped in soft, silky tannins. Elegant, polished, and highly approachable now, the impeccable balance will lead to further rewards in the future. Like the 2009 vintage of Perli Vineyard, a wine to treasure.
14.2% alc., $40. ·Moderately dark reddish-purple hue in the glass. Gorgeous aromas that make you just want to chew on the juice. Deep perfume of perfectly ripened pie cherries and vanillin oak. A stunningly flavorful wine that is quite flamboyant and showy, offering an array of darker berry and cherry flavors backed by complimentary oak. The finish is extraordinarily long, lasting more than 30 seconds. As good as this wine is upon opening, it did not show as well the next day from a previously opened bottle and probably is not a long term ager. Drink up for smiles now. Very good.
14.5% alc., 240 cases, $40. ·Dark reddish-purple color in the glass. A bit funky on the nose with aromas of pine forest, mushroom and spice. Soft and smooth on the palate with a moderately rich core of dark red cherry and berry fruits that veer to an ultra ripe, and slightly oxidized character. Well-honed acidity with supple tannins. The next day the wine was disappointing with over ripe flavors and a vegetal note. This may not be a representative bottle of this wine as I have sampled it in the past and reviewed it very favorably (January 2010).
14.5% alc., 165 cases. $40. ·Moderately dark reddish-purple color in the glass. Nicely perfumed with aromas of fresh berries sprinkled with herbs, spice and flowers. Delicious core of darker red cherries, berries and plums with an attractive savory, wildly exotic tone. Very soft in the mouth with firm, but complimentary tannins, and a long dry finish. This is a wine that aims to please.
14.2% alc., pH 3.62, TA 0.67, 450 cases, $28. Released February 2011. Sourced from Manchester Ridge and Perli vineyards. Clones 777, 667, 114 and 115.100% de-stemmed. Aged 11 months in 100% neutral French oak. ·Moderately dark reddish-purple color in the glass. A nose you could chew on, with luscious aromas of dark red cherries and berries and spice, underlain with a floral and sandalwood note. Equally satisfying in the mouth, with a flavorful array of perfectly ripe cherry and dark raspberry flavors complimented by the finest dusting of flowers and oak. Can't say enough good things about this wellcrafted, seamless wine. I could easily drink it all night long.
13.9% alc., pH 3.62, TA 0.67, 99 cases, $40. Released November 2011. 50% 777 and 50% 667. Aged 11 months in 100% seasoned oak. 100% de-stemmed. ·Dark reddish-purple color in the glass. Beguiling aromas of cherries, raspberry coulis, and chocolate malt. Delicious core of moderately rich cherry, berry and plum flavors with a forest bent. I swear I can taste the nearby redwoods in this wine. Very smoothly textured like the most perfect thighs, with supple tannins and a gentle, sexy finish. A languorous and slinky wine that is a clear standout in this lineup of Mendocino Ridge Pinot Noirs.
13.4% alc., pH 3.63, TA 0.61, 72 cases, $40. Released February 2011. Clone 667. 30% whole cluster. Aged 11 months in 25% new French oak and 75% seasoned French oak. ·Dark reddish-purple color in the glass. Very slow to open on the nose with aromas of cherries, spice, forest floor and oak. Moderately dense, luscious flavors of savory dark plums, black raspberries and black grapes with a long and intensely fruit-filled finish. A slight vegetal note is evident either from slightly under ripe fruit or whole cluster. Very good.
14.5% alc., $42. Grown, produced and bottled by Sky High Ranch, Philo, CA. 100% destemmed. Aged 18 months in 24% new French oak, 66% older French oak. ·Medium reddish-purple color in the glass. Reserved aromatics, offering subtle scents of dark red stone fruits, brier and oak. Flavorful array of dark red cherry and raspberry flavors with hints of chicory and earth. The fruit really makes an impression. Some dry tannins provide support and the wine finishes with reasonably strong fruit high notes. Lacks a little aromatic interest, but really delivers on the flavor. Very good (+).
14.1% alc., pH 3.68, TA 0.62, 300 cases, $30, screw cap. Released June 2011. Aged 8 months in French oak. ·Medium reddish-purple color in the glass. Aromas of fresh strawberries, cherries, spice and oak cask. Respectable flavors of red berries which persist on the intensely fruity finish. The fruit is mildly compressed by firm and slightly astringent tannins. Over delivers for the price. Good (+).
14.7% alc., $40. ·Medium reddish-purple color in the glass. Oak-kissed deep red and well-spiced cherry aromas. Crisp and elegant with an appealing dark cherry core, lashed with plenty of oak-driven notes of toast and coffee. A little too much oak for me personally, but crafted well in its style. A bit hot on the finish as it warms in the glass. More oak integration was evident the following day from a previously opened and re-corked bottle indicating more cellaring will be beneficial. Very good.
14.5% alc., $40. ·Golden straw color in the glass. Very restrained nose with demure aromas of white peaches, straw and smoke. Light in weight (seems filtered), bright in acidity, with shallow fruit flavors and notes of vanilla cream and burnt toast. Sadly impugned by smoke taint. Decent at best.
14.2% alc., pH 3.73, TA 0.60, 499 cases, $48. Three clones: Dijon 76, Old Wente, and the newer Dijon 809. Clones vinified separately. De-stemmed, crushed and skins held in contact with the juice for a number of hours to increase aromatics. Native fermentation for Old Wente and 76 clones. Inoculated with a yeast that heightens the perfume of the 809 clone. Aged sur lies with early battonage. Bottled unfiltered. ·Light straw color in the glass. Aromas of damp forest floor, baked pear, papaya and light caramel. Intense flavors of white peach, pear, and lemon drop with an underlying earthiness and minerality. Slightly creamy with bright acidity, barely perceptible tannins, and a bold, long finish. The richness, complexity and length really challenge the senses.
14.5% alc., $35. ·Moderately dark reddish-purple color in the glass. Subdued aromas of pleasing dark cherries, dry leaf and oak. Creamy and fullflavored on the palate with a delicious core of perfectly ripened black cherries framed by the slightest hint of oak. Nicely balanced with lively acidity and ripe tannins, finishing with aromatic persistence. Still great the next day from a previously opened and re-corked bottle.
14.2% alc., pH 3.53, TA 0.57, 148 cases, $55. Aged 17 months in 50% new French oak barrels. ·Moderately light reddish-purple color in the glass. Aromas of red cherries and berries with a touch of savory herbs. Full-flavored essence of fresh red cherries with notes of tea leaf, cola, sandalwood and spice. Very soft tannins and generous persistence of cherry fruit flavors on the long finish. Very fruity and flirty.
Previous article:
Anderson Noir Valley: Trade Tasting
Next article:
More Anderson Noir Valley Pinot
California's wine growing regions produces unique and diverse wines, with different flavors and characteristics being derived from the soil, climate and the winemakers that create them. Ranging from abundant sunshine to cool coastal air, plus a variety of soils and terrain, each region lends its own personal touch to the varietals grown there. A Chardonnay grown in the Central Valley can seem like an entirely differently grape when compared to a Chardonnay produced from Monterey grapes. This diversity means that within the state, there is a wine for every palate.
Every bottle of California wine on the market lists the geographical origin where the grapes were grown. In some cases it will be the state of California itself, a county within the state, or a more specific growing region known as an American Viticultural Area, or AVA. For a wine to carry an AVA name on its label, at least 85% of the grapes must be grown in that AVA. If a county is listed on the label, that number is 75%. And any wine simply stating that it is from "California" indicates that 100% of the grapes are grown in the Golden State.
Within California there are more than one hundred AVA's. An AVA is a geographical area recognized for grape growing that has distinguishable growing conditions, such as climate, soil, or elevation, that differ from surrounding areas. An AVA can be any size (there are no minimums or maximums) and may even cross state or county lines. Many of us are familiar with the major wine growing regions such as Napa and Sonoma Valleys, but within each of these regions, there may be several AVA's, both large and small. As we look at the state of California geographically, we'll explore the major wine regions and the most important AVA's in each region.
The North Coast
The North Coast is home to the grape regions that put California wine on the map and encompasses Napa, Sonoma, Mendocino, Lake, Solano, and Marin Counties. It's a large wine growing region that is home to more than half of the state's wineries and is also a designated AVA. Within this massive AVA, many smaller, highly regarded growing regions and AVA's exist.
Mendocino County
Mendocino County is the northernmost growing area within the North Coast region. Foggy, cool and covered in redwood forests, Mendocino grows an abundance of Chardonnay, Cabernet Sauvignon, and Pinot Noir. However, because of the county's diverse geography and climate, dozens of other varietals grow here ranging from more familiar varietals like Sauvignon Blanc and Syrah to more obscure like Colombard and Charbono. Mendocino County is home to 10 AVA's with the most widely known being Anderson Valley (known for sparkling wines) and Mendocino AVA's.
Lake County
Lake County, home to 5 AVA's, sits just east of Mendocino and is named for the largest inland body of water in the state of California, Clear Lake. Lake County is known for its fine, affordable Cabernet Sauvignon and Sauvignon Blanc, but also produces quite a bit of Merlot and Chardonnay along with some other less common varietals.
Sonoma County
Sonoma County, home to 13 AVA's and more than 500 wineries, grows more Pinot Noir than any other county in the state. Also found in abundance here are Chardonnay, Cabernet Sauvignon and Merlot with smaller, but still significant amount of Sauvignon Blanc and Zinfandel being produced. Sonoma's best AVA's include the Russian River Valley, Los Carneros (which is also a part of Napa County), Alexander Valley, Dry Creek, Chalk Hill, and Knights Valley.
Napa County
Although easily the most famous wine region in California, Napa Valley produces just 4% of all California wine. It's home to 16 AVA's, 600 wineries, and arguably some of the best restaurants and finest wines in the country. Napa Valley's most sought after AVA's include Carneros, Howell Mountain, Mount Veeder, Oakville, Rutherford, Stags Leap District, and Yountville. Napa is best known for Cabernet Sauvignon, but produces fine Chardonnay, Chenin Blanc, Merlot, Pinot Noir, Sauvignon Blanc, Riesling, and Zinfandel as well.
Los Carneros
Los Carneros, often simply called Carneros, is an AVA that straddles the county lines of Napa and Sonoma. Adjacent to the San Pablo Bay it's an ideal growing region for Chardonnay and Pinot Noir and produces world-class sparkling wines from these varietals.
The Central Coast
The Central Coast covers a huge stretch of the California coastline and can be divided into two distinct growing regions, north and south. The north part of the Central Coast is home to the Livermore Valley, along with the Santa Cruz Mountains, Monterey, and Carmel Valley, among other smaller AVA's. The north Central Coast region produces a wide variety of grapes with some areas favoring Pinot Noir and Chardonnay, others producing excellent Cabernet Sauvignon and Sauvignon Blanc, and still others planting varietals like Riesling, Viognier, and Gewurztraminer.
The southern part of the Central Coast stretches from Paso Robles in the north to the Santa Maria and Santa Ynez Valleys in the south. The grape varietals here range from the Rhone varietals, like Syrah, Grenache and Mourvedre, to Italian varietals like Barbera and Sangiovese, to Burgundian varietals of Pinot Noir and Chardonnay. You'll also find the quintessential American grape, Zinfandel, grown here.
The Northern Central Coast
Livermore Valley
The Livermore Valley lies east of the San Francisco Bay and has been home to vineyards since the early 1880's, when pioneer winemakers C. H. Wente and James Concannon first planted here. Both wineries are still in operation and still family run. While this region grows several different varietals, 80% of California Chardonnay can be genetically traced to the Livermore Valley.
Monterey County
Winemaking didn't become serious business in Monterey County until the late 1950's when urbanization in the Livermore and Santa Clara Valleys. Coupled with information released by UC Davis that cooler coastal climates would be ideal for producing fine wines, Monterey County winemaking was born. This region produces world class Pinot Noir and Chardonnay, but 40 other varietals thrive here as well. Notable AVA's include Arroyo Seco, Carmel Valley, and Chalone.
Santa Cruz Mountains
The Santa Cruz Mountains is a magical combination of mountains, marine influence, unique micro-climates, and varied soils that produce fantastic California wines. Many varietals are grown here by an eclectic group of winemakers.
The Southern Central Coast
San Luis Obispo County
San Luis Obispo County has a variety of terrain and micro-climates that produce a diverse group of wines. From the damp, foggy hillsides of Arroyo Grande to the ocean breeze tempered Edna Valley, this area is known for its Rhône blends, heritage Zinfandels, Pinot Noirs and Chardonnays.
Paso Robles
Mendocino And Lake County Ava Map
One of California's oldest wine growing regions with the first vineyards planted in the 1790's. Paso's rolling hills and valleys feel little of the coastal winds or marine fog, which has a considerable effect on grape-ripening. 80% of the wines produced here are red varietals, with the most notable being Rhone grapes, Zinfandel, Cabernet Sauvignon, and Merlot.
Santa Barbara County
This area was immortalized in 2004 by the film Sideways, which celebrated the area's signature Pinot Noir. The most well-known AVA's include the Santa Maria and Santa Ynez Valley's and the Santa Rita Hills and produce top notch Chardonnay, Syrah, Riesling, Cabernet Sauvignon, Zinfandel, and of course, Pinot Noir.
The Central Valley
While California's coast areas get the glory for producing some of the country's finest wines, the Central Valley is the workhouse of California's wine industry, producing some three-quarters of the state's grapes. This massive region encompasses Sacramento, Yolo, San Joaquin, Madera and Fresno counties and is often the source of wines simply labeled "California".
The Sierra Foothills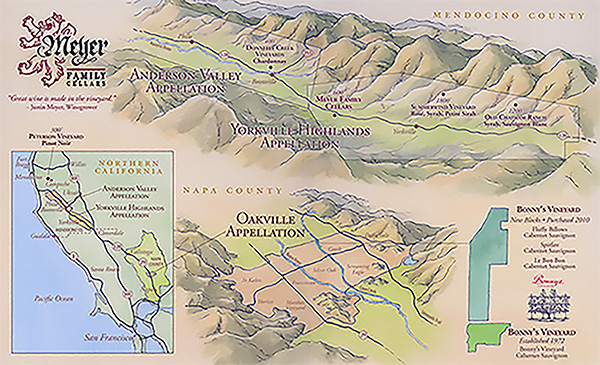 Home to some of the state's richest history, California's quaint gold mining towns offer beautiful rolling hills, old vines and delicious wines. Amador County is the center of the wine making movement here and produces top quality zinfandel, Italian stars Barbera and Sangiovese, along with Rhone favorites like Syrah and Viognier.
Southern California
Mendocino Wine Ava Map
Southern California is beginning to expand its presence in the states wine profile with wineries in every county with the lower part of the state. A wide variety of grapes grow from the cooler coastal communities to the warm inland valleys, with Malibu, the Temecula Valley, and San Diego County producing some standout wines.