Ukulele Tuesday Songbook
Posted : admin On

1/25/2022
Have you attended any of our online Zoom meetings yet? If not, it's time to join us! They happen every Tuesday (of course) Next ones are May 4 and May 11, and we hope we see you there. Each Tuesday at 7:00pm CST, or CDT, we have a (very) casual Online Open Mic – we play a couple of songs together, and then folks get an opportunity to play for the group. All genres! All kinds of music! If you're not on the mailing list, shoot us an email at [email protected]
————————————
Ready to Log In? If you'd like to log into our Tuesday, May 4 and May 11 Zoom meetings at 7 p.m., here's how to do it. You don't need to perform a song–you can listen or strum along–and we usually provide a chart of the lyrics and chords. Due to Zoom's latency problems, we can't play together in a way that lets all of us hear each other. But we're always happy to have you perform for the group. Join us!
The Ukulele Songbook Bluegrass Classics A collection of Bluegrass classics, arranged for easy Ukulele in C (G-C-E-A). Featuring chord symbols, chord diagrams, melody TAB and lyrics plus a section on tuning, the basic Ukulele chords and some easy basic strumming and picking patterns. A beautiful life 2. All the good times are past. Ukes on Tuesdays in Austin, Texas. Spring 2020 Songbook. Here's play-along/strum-along videos for songs from our Spring Songbook. Some of these have PDFs for the songs in the videos – and you can get the complete songbook here. Richard G's Ukulele SongBook. Ukulele Tuesday. We meet up every Tuesday 8pm in the Stag's Head, upstairs. All abilities welcome! Seats are are reserved for people who are playing instruments. Many other songs and songbooks are available on our website at the links/ukulele groups pages. Choose Canada or U.S.A 4th Peg Songbook Beginning Ukulele Songbook Big Muffin Songbook Brighton Ukulele Songbook 1 Brighton Ukulele Songbook 2 Campfire Songbook Christmas Ukulele Songbook Doctor Uke Family Day Uke George Formby Solos Book by Mike Warren HappyUkuleleSongbookv2 Jim Carey's Ukulele.
Plus… BYOBeer for our Beer Time at 8 p.m.
Join the Zoom Meetings on Tues, May 4 and May 11, 7 p.m.–just click on this link and follow the buttons (say "Yes" to the audio and video):
https://us02web.zoom.us/j/81372712176?pwd=OGpQdnhacFVrcHdnaDYrWHVqU2FLQT09
————————————-
We used to email people invitations to our Zoom meetings, but since they don't change, the instructions are below. We also capture the meetings on video – OnLine Open Mic Videos.
We also have play along videos – check out the Member Videos and the Spring 2020 Songbook videos. And since we're all pretty much sitting at home most of the time – this is a good chance to work on some new strums with our TUG Strum Class videos. We're adding videos (and other stuff) almost every day – so check back.
We'll be updating our calendar with local online events – and check out Ukulele Magazine's Live Stream Events Calendar – lots of great stuff going on in the ukulele world.
Take care — and keep playing.
We're a group of uke players who wish we could meet each Tuesday at 7:00pm at The Hancock Recreation Center – 811 E. 41st Street, Austin, TX. (Hancock Rec Center Web). It'll happen again, we hope, and we'll let you know when.
We open our meetings by playing a couple of songs that we haven't played for a while. Then we play a few songs from our current, and ever-changing quarterly songbook. Folks bring in songs they like and we try new songs – we're open to anything! We project the song sheets on the wall – and we have loaner ukes at every meeting – so you don't need anything! At the end of each quarter we pull a dozen or so songs from our current songbook, print song sheets, and have an open uke jam at a local watering hole – we call it a UkeAlong. We take our loaner ukes and usually get some bystanders involved – it's a lot of fun.
From 6:30pm to 7:00pm each Tuesday we have a gentle warm up where we play one and two-chord songs.
If you have any questions drop us an email – [email protected]. We're very informal, and this is a friendly group – so come out and play ukes with us.
Home Events & Calendar Song BookContact Us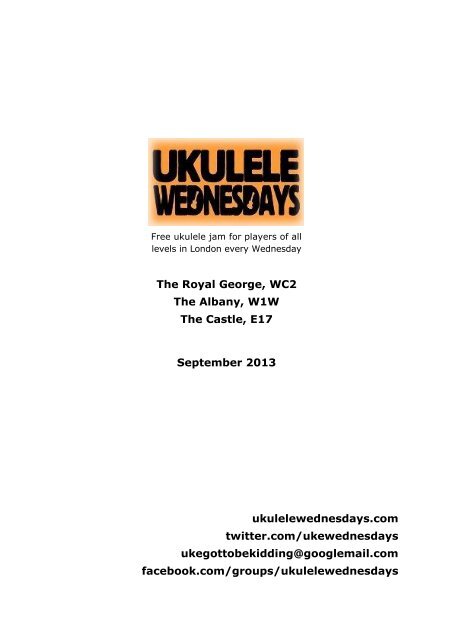 The San Jose Ukulele Club invites all who play or want to learn to play the ukulele
All skill levels are welcome
Uke Songbook
We project the song sheets on a screen so paper song books are not needed. All our song sheets are available (for educational purposes only!) on our Song Book page.
**Until this COVID pandemic is conquered, we hold ZOOM meetings, usually every second and fourth Sunday in the month at 2:00pm Pacific time. To join in, contact us, give us permission to add your email to our list, and you will receive the set list, Zoom invitation link to the jam and any other information regarding our ukulele club.
The Happy Ukulele Songbook
Where: Denny's Restaurant, 1140 Hillsdale Avenue, San Jose.
When: every second and fourth Tuesday
We offer a free half-hour beginner lesson starting at 6:30 pm The general meeting begins at 7, with a 10-15 minute break at 8. We have the meeting roomfrom 5 until 9 p.m. which is ample time to have dinner, chat with fellow members, and practice before the meeting. It is a good idea to arrive as early as possible.
Ukulele Tuesday Songbook Video
There are four beginner lessons. Clickhere for the syllabus and here for the chord charts.
Ukulele Tuesday Songbook